Carl R. "Dick" Leffel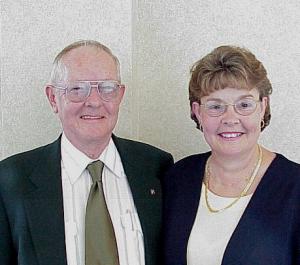 Carl with wife Carol at reunion in 2000
CARL R. "DICK" LEFFEL, 69, of Springfield, loving and devoted husband, father, grandfather and brother, died a peaceful death with his family at his side, Saturday, May 25, 2002, at Kobacker House Hospice in Columbus, following a brief battle with cancer.
He was born October 7, 1932 in
Springfield, Ohio, the son of Carl Craig and Edith Mary (Leitschuh) Leffel. He retired from International Harvester in 1988 after 31 ½ years of service.

He served in the United States Navy during the Korean War from 1952 to 1956
as an MM2 aboard the USS DeHaven DD-727. Dick was the Membership Chairman of the DeHaven Sailors Association, a member of the National Council Boy Scouts of America Tecumseh # 439 as a Life Scout, and a member of the
Springfield Church of the Brethren. He loved his computer, woodworking, and was an avid bowler.
Survivors include his wife of 44 years, Carol J. (Massie) Leffel; 3 children and spouses; son and daughter-in-law, Carl Richard II "Rick" and Sheri Leffel of Springfield; and daughters and sons-in-law, Dawn Carol and David Stump and Connie Lynn and Kevin Tossey all of Springfield; sisters and brothers-in-law, Donna and Kenneth Barnhart and Patty and Gerald Sheets; brother and sister-in-law Floyd and Helen Leffel all of Springfield; grandchildren, Megan and Samantha Leffel, Ashley and Tiffany Stump and Addison R. and Sullivan Richard Tossey all of Springfield; special friends, Paul and Gloria Ockerman; and several aunts, uncle, nieces, nephews and cousins.
He was preceded in death by his parents, infant son Paul, and brother Robert. A gathering of family and friends will be held Tuesday from 4 to 8 in the LITTLETON AND RUE FUNERAL HOME, SPRINGFIELD. Funeral services will be held in the funeral home Wednesday at 1:00 p.m. with the Reverend Paul Biery, of Central Christian Church officiating. Burial will be in Ferncliff Cemetery.
Moose has shared a poem in Carl's memory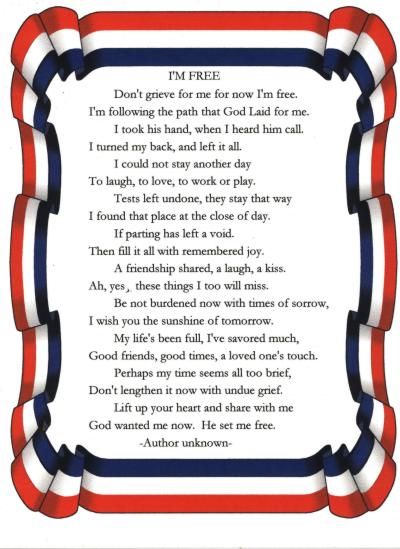 Leffel Family Rear: Son Carl Richard II, Front: L-R Connie Lynn Tossey, Dawn Carol Stump, Wife-Carol J. Leffel
A DeHaven Flag draped at the funeral
The memorial service card
Inside the card

A special thanks to Hal Smith for the above items.